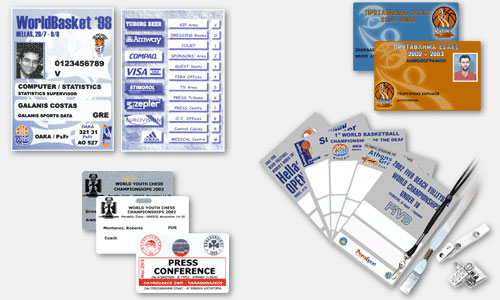 Accreditation includes badges, circulation maps and access zone definition for all halls and stadiums in Greece, registration forms, participants' database and photo-cards on-line from various centers incorporating security controls and circulation statistical data.
• Accreditation Cards are designed in accordance with the type of sport and include events logos, sponsors etc.
• Circulation Maps along with arena / hall layout design.
• Cards vary in size and material, they can be small plastic credit cards, standard 9x13cm plasticized cards, or practically any size.
• Cardholders can be pins, clips or lanyards with / without pre-printed text.
• Digital cameras and scanners are used for photo taking of participants.
• LANs with laptops / PCs and printers for each accreditation centre.
• Security control can be achieved through barcode or magnetic strips in combination with access control units (slots, contact less sensors, etc).
• Reports are issued per accreditation category, per country / team, etc. Totals are available in various forms. Current capacity allows a production of over 3,000 cards per day.
Major events where accreditation service was provided include:
2014-2015
• "Aphrodite Cup 2015" - Internatinal Meeting in Rhythmic Gymnastics
2013-2014
• Lighting & Handing-Over of the Olympic Flame (Sochi 2014)
• 2nd Athens International conference "FootALLabout"
• U20 European Men's Basketball Championships (Geraklion, Rethymno, Crete)
2012-2013
• FIBA World Championships 3x3
2011-2012
• Lighting & Handing-Over of the Olympic Flame (London 2012)
2010-2011
• NOVA Dream Game
2009-2010
• Lighting & Handing-Over of the Olympic Flame (Vancouver 2010)
• Lighting & Handing-Over of the Olympic Flame (Singapore 2010)
• U16 European Women's Basketball Championships (Kozani, Ptolemaida)
2008-2009
• 2nd Congress of European Journalists (Crete)
• IAAF Super Grand Prix 2009 "Tsiklitiria"
• U20 European Men's Basketball Championships (Rhodes)
2007-2008
• Lightning and Handing-Over of the Olympic Flame (Beijing 2008)
• 33rd Basketball Cup Final Olympiacos-Panathinaikos
• Spanoudakis Concert in Pallas Theatre
• Olympic Men's Basketball Tournament
• IAAF Super Grand Prix 2008 "Tsiklitiria"
2006-2007
• Euroleague Draw – Basketball
• FINAL 4 Euroleague Basketball - Men
• 1st Basketball Eurostar Game
• 1st Congress of European Journalists (Olympia)
• IAAF Grand Prix 2007 "Tsiklitiria"
• European Basketball Championships for Cadets
2005-2006
• ESAKE Media
• FIVB World Women Beach Volleyball Championships
• FIVB World Men Beach Volleyball Championships
• Lightning and Handing-Over of the Olympic Flame (TORINO 2006)
• European Junior Basketball Championship (Argostoli-Amaliada-Olympia)
• "Tsiklitiria" IAAF Super Grand Prix 2006
• European Archery Championships
2004-2005
• Lighting & Handing-Over of the Olympic Flame
• ESAKE Media
• PAOK BC Media
• OAKA Doping Cards
• IAAF Super Grand Prix "Tsiklitiria"
2003-2004

• FIG World Congress 2004

• Lighting & Handing-Over of the Olympic Flame (Athens 2004)
• World Congress of National Olympic Committees (ACNO 2004)
• World Youth Chess Championships 2003 (Halkidiki)
• 74th FIDE World Congress (Halkidiki)
• ESAKE Media
• Olympiacos Champions League Matches
• European Basketball Championship – Women (Pyrgos-Amaliada-Patras)
• European Wheelchair Championship – Division C
• World Junior Championship Modern Pentathlon
• IAAF Super Grand Prix "Tsiklitiria"

2002-2003

• "Athens 2004" Sport Event Canoe Kayak

• "Athens 2004" Sport Event Rowing

• "Athens 2004" Sport Event Sailing

• "Athens 2004" Sport Event Cycling

• 2003 CEV Beach Volleyball European Tour Hellas Open(Rethymno, Crete)

• 7th World Championship for Junior Men - Basketball (Thessaloniki)

• IAAF Super Grand Prix "Tsiklitiria" -Trikala

• 2003 FIVB Beach Volleyball World Tour Hellas Open (Rhodes)

• Hellenic Presidency - European Forum on Local Development & Employment - Rhodes

• ESAKE Media

• Olympiakos Champions League Matches

• World Youth Chess Championships 2002 (Heraklion, Crete)

2001-2002

• 65th AIPS Congress

• Athens IAAF Grand Prix 2002 "Tsiklitiria"

• FIAT Summer League 2002

• 1st World Basketball Championships of the Deaf - Men & Women

• 2002 FIVB Beach Volleyball Women's World Tour Hellas Open (Rhodes)

• FIVB Beach Volleyball World Championships U18 (Xylokastro)

• Lightning and Handing-Over of the Olympic Flame (Salt Lake 2002)

2000-2001

• Athens IAAF Grand Prix 2001 "Tsiklitiria"

1999-2000

• European Men's Volleyball Cup Winners' Cup FINAL FOUR
• European Men's Basketball FINAL FOUR (Salonica)
• National Women's Basketball Cup FINAL FOUR (Serres)
• Athens IAAF Grand Prix 2000 "Tsiklitiria"
• 3rd Junior Men's European Handball Championship

1998-1999

• "Tsiklitiria '99" Athens Grand Prix II in Track & Field
• Cycling - Track Juniors Championships

1997-1998

• National Basketball Cup FINAL FOUR
• World League '98 - Volleyball (Lamia, Larissa, Salonica)
• "Tsiklitiria '98" International Track & Field Meeting
• WorldBasket '98

1996-1997

• European Men's Volleyball Cup Winners Cup FINAL FOUR
• European Women's Basketball FINAL FOUR (Larissa)
• 10th World Waterpolo Cup (FINA CUP)
• World Cycling Championship

1995-1996

• European Volleyball FINAL FOUR
• European Men's Basketball FINAL FOUR
• Conference of the National Federations of the E.U. Member States
• Pre-Olympic Tournament for Men in Volleyball - Patra

1994-1995

• Panathinaikos Champions League Matches
• Eurobasket '95
• Mundobasket '95 - Juniors' Basketball (5 cities)
• CEV Congress
• Eurovolley '95

1993-1994

• European Basketball Champ. Winners' Cup FINAL FOUR
• 9th European Veteran's Track & Field Championships
• Centennial FIVB Congress
• Cosmovolley '94 - Men's Volleyball (Athens-Salonica)

1992-1993

• 13th European Boxing Championship
• European Juniors' Basketball Championship
• 8th World Waterpolo Cup (FINA CUP)

1991-1992

• European Junior Men (U 22) Basketball Championship
• European Men's Volleyball FINAL FOUR
• 13th European Juniors' Volleyball Championship
• "Acropolis" 6th International Basketball Tournament

1990-1991

• 100 Basketball (Centenary of Basket 1881-1991)